Why Click IT?
We are a computer sales, repair shop, support, information center, and managed services provider – all under one roof!
Click IT is your own personal IT Department and solutions provider for all things relating to technology. From a simple repair to full Managed Services for your entire computer system, Click IT is your one-stop-shop.
We have a store right down the street
As "Your Local IT Department, we maintain a retail store on Ridge Rd, Brooklyn Ohio. That makes us perfect for businesses and residents because you can call, click or come into our store. No more traveling to "the city" or waiting for online orders. The Click It team brings world-class IT service and support directly to your home, business or in-store.
We focus on IT so you don't have to
Our mission is to manage and support your IT systems so you can focus on what you love to do. We make sure your systems stay up and running 24/7. Because we know it's not just your computer system, it's your business.
We are the best in the business
With nearly 20 years of experience nationwide, we've seen it all and fixed, managed or supported it!
We are fast
Service calls are completed within 48 hours. We'll even come to you!
Our mission is to create happy customers through excellent service
See what our happy clients have to say about Click IT here See Testimonials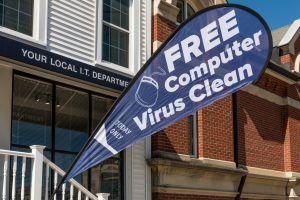 Click IT is your local managed IT services provider.
Click IT has been offering IT-related products and services to local businesses, organizations, households, and walk-in customers since 2012. All of our IT services are completely managed by certified computer technicians and network administrators. Our focus is on local businesses, but we also work with companies nationwide, providing highly specialized IT services, such as secure hosting solutions.
Click IT was founded by Al Harlow on the principle that anyone with a computer requires reliable, customer-facing assistance. Just as automobile owners require mechanical technicians, IT users need IT, specialists. From networks and cloud computing to personal laptops and data backup, IT is woven into the fabric of our daily lives. Our IT services are friendly, local, and affordably priced. Think of Click IT as your universal IT solutions provider.
Our Mission
Our mission is to manage and support your IT systems so our customers can focus on everything else. We do this by offering the general public and businesses of all sizes the best-in-class enterprise-level IT services usually available only to large corporations with massive budgets.
Our Team
Click IT is comprised of a small group of capable and well-trained IT technicians and network administrators. The Click IT Team, certificates and technical qualifications aside, are just a bunch of friendly people who want to assist customers with their technological issues and goals. Feel free to stop in and ask us how we can help you leverage IT to make your business more efficient, make your home way cooler, or just make your life a little easier.